LIVE ON 12-31-11 4 States Send Players To Battle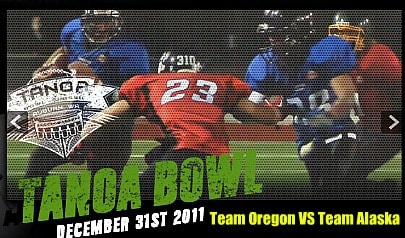 At OregonPreps.com we work tirelessly to help our kids find a home. So when we were invited to be on the selection committee we accepted and we know the group running this. They always do a great job. A terrific group of Senior players with Polynesian roots were invited. Then the committee filled in around that group with players who were some of the best the State had to offer.
In addition special attention was paid to the kids who did not have offers but who our staff felt will move on the collegiate level. Add to that the fact we have once again arranged for a live webcast and for every head coach in America to receive an invite to watch and we see this as a terrific game that will be competitive and truly a showcase for these boys.
Tanoa Bowl Football Classic: 12-31-2011
FOR IMMEDIATE RELEASE:
Tanoa Bowl Classic
Simi Strickland Ulitmate Edge Sports
253-293-1704
simi@uedgesports.com
Washington VS Utah & Oregon VS Alaska in Prep Football All Star Games
Auburn, Washington, 12-31-2011 —
One of the best High School Football Bowl events in the Nation in 2011 promises to be the Tanoa Bowl Classic which will be held 12-31-2011 at Auburn Memorial Stadium. This year's events will feature two great games featuring 130 of the best players in the Western United States. Washington, Utah, Alaska, and Oregon are all sending teams loaded with top High School talent to the Tanoa Bowl.
By definition the Tanoa Bowl is a platform to showcase top student athletes and their achievements on and off the field. It is also there to recognize the hard work and dedication that these players are making as positive role models both in their community and for the up and coming generation.
The Tanoa Bowl has its roots in Polynesian traditions and culture. A good portion of the rosters for these teams will be of Polynesian descent and represent the best of their roots. But the event is open to all in the Spirit of Polynesia and all four states are bringing a contingent of kids who will are not only the best of their communities but who also have the potential to play football at the Collegiate level. The competition will be Terrific!
The Tanoa Bowl, powered by Ulitmate Edge Sports, features a Media Day on the 30th of December from 3:30 to 5 PM at Emerald Downs in Auburn, Washington followed by a feast put on for the teams by the Bowl Organization. All Members of the Media planning to attend should call ahead to 253-293-5380.
Team Oregon is Playing Team Alaska at Noon on the 31st and Team Washington is playing Team Utah at 4 PM. Both games are being held at Auburn Memorial Stadium in Auburn, Washington and Tickets will be available at the gate.
For any and all questions call Coach Simi Strickland at 253-293-1704.
# # #
Please Make Sure to Like Us On Facebook, Listen to NWPR Radio, Twitter, Check Out the NWPR You Tube Channel